Mission
The Integrative Bioinformatics (IB) Core provides researchers with access to a full range of services to facilitate successful study design, data analysis and integration for basic, translational, and clinical research studies in rheumatic disease.  The IB Core uses a data-driven approach to advance precision medicine in rheumatology by offering services in study design, molecular omics data analysis, leveraging publicly available datasets, integrating molecular and clinical data and facilitating data dissemination.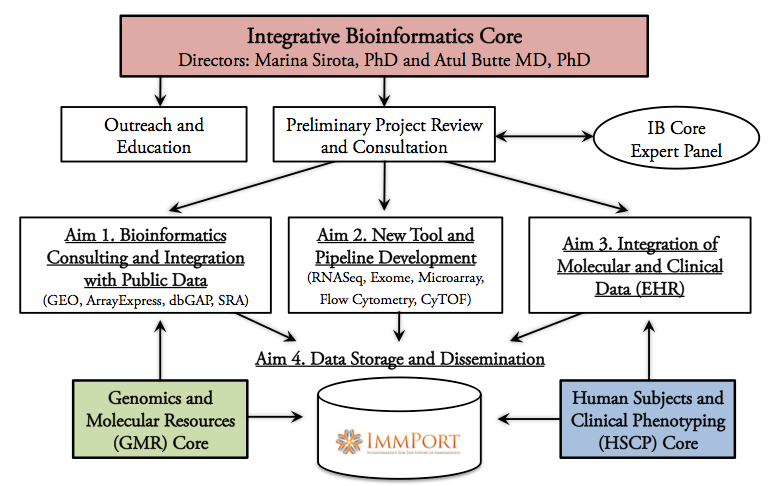 Specifically, the IB Core will:
Provides analytical consulting services in study design, data analysis and data integration with public datasets in order to advance precision medicine in rheumatic disease research.
Develops novel tools, software and analytical pipelines for the integration, annotation, analysis, retrieval, and presentation of data from clinical and molecular studies of rheumatic diseases.  As a result of this aim, we have established and maintain a technologically up-to-date toolset that can be readily used for systems-level analyses of the data.
Integrates molecular and clinical data and leverage collaborations between the GT and CDI Cores and facilitate integrative computational analysis for a wide range of clinical, translational and basic research studies to enable precision medicine in rheumatology.
Provides centralized data management and storage including assistance in dissemination of data for P30 associated projects by leveraging ImmPort and the UCSF Data Library developed by the Data Science CoLab.
Assembled a panel of experts with extensive experience in biostatistics and bioinformatics tools who can provide further input and guidance for design, implementation, and analysis of data related to Center rheumatic disease projects.
Publications and Preprints:
1. Christenson SA, Mick E, DeVoe C, Deiss T, Pisco AO, Ghale R, Jauregui A, Byrne A, Moazed F, Spottiswoode N, Sinha P, Zha BS, Serpa PH, Ansel KM, Wilson JG, Leligdowicz A, Siegel ER, Sirota M, DeRisi JL, Matthay MA, COMET_Consortium, Hendrickson CM, Kangelaris KN, Krummel M, Woodruff PG, Erle DJ, Calfee CS, Langelier CR. COVID-19 ARDS is characterized by a dysregulated host response that differs from cytokine storm and may be modified by dexamethasone. medRxiv 2020. DOI name: 10.21203/rs.3.rs-100914/v1

2. Sun M, Shankar R, Ko M, Chang CD, Yeh S, Li S, Liu K, Zhou G, Xing J, VanVelsen A, VanVelsen T, Paithankar S, Feng BY, Young K, Strug M, Turco L, Wang Z, Schadt E, Chen R, Li X, Oskotsky T, Sirota M, Glicksberg BS, Nadkarni GN, Moeser AJ, Li L, Kim S, Zhou J, Chen B. Sex differences in viral entry protein expression, host responses to SARS-CoV-2, and in vitro responses to sex steroid hormone treatment in COVID-19. Research Square. 2020. DOI name: 10.21203/rs.3.rs-100914/v2

3. Andreoletti G, Lanata CM, Paranjpe I, Jain TS, Nititham J, Taylor KE, Combes AJ, Maliskova L, Ye CJ, Katz P, Era MD, Yazdany J, Criswell LA, Sirota M. Ethnicity-specific transcriptomic variation in immune cells and correlation with disease activity in systemic lupus erythematosus. BioRxiv. 2020. DOI name: 10.1101/2020.10.30.362715

4. Le BL*, Andreoletti G*, Oskotsky T*, Vallejo-Gracia A, Rosales R, Yu KZ, Kosti I, Leon KE, Bunis DG, Li C, Kumar GR, White KM, García-Sastre AE, Ott M, Sirota M. Transcriptomics-based drug repositioning pipeline identifies therapeutic candidates for COVID-19. BioRxiv. 2020. DOI name: 10.1101/2020.10.23.352666

5. Rychkov D, Neely J, Oskotsky T, Sirota M. Cross-Tissue Transcriptomic Analysis Leveraging Machine Learning Approaches Identifies New Biomarkers for Rheumatoid Arthritis. bioRxiv. 2020. DOI name: 10.1101/2020.07.24.220483

6. Daugherty AC, Farrington C, Hakim I, Mujahid S, Noblin ES, Radin AM, Chua MS, Rabe M, Fernald G, Ford D, Sirota M, Schaevitz L, Radin AA. Rapid Identification and Validation of Novel Rheumatoid Arthritis Drug Treatments using an Integrative Bioinformatics Platform. bioRxiv. 2018. DOI name: 10.1101/243998

7. Bunis D, Bronevetsky Y, Krow-Lucal E, Bhakta NR, Kim CC, Nerella S, Jones N, Mendoza VF, Bryson YJ, Gern JE, Rutishauser RL, Ye CJ, Sirota M, McCune JM, Burt TD. Single-Cell Mapping of Progressive Fetal-to-Adult Transition in Human Hematopoiesis. Cell Reports. 2021. Pubmed PMID: 33406429

8. Bunis DG, Andrews J, Fragiadakis GK, Burt TD, Sirota M. dittoSeq: Universal User-Friendly Single-Cell and Bulk RNA Sequencing Visualization Toolkit. Bioinformatics. 2020. DOI name: 10.1093/bioinformatics/btaa1011

9. Pineda S, Bunis D, Kosti I, Sirota M. Data Integration for Immunology. Annual Review of Biomedical Data Science. 2020. DOI name: 10.1146/annurev-biodatasci-012420-122454

10. Norgeot B, Muenzen K, Peterson TA, Fan X, Glicksberg B, Schenk G, Rutenberg E, Oskotsky B, Sirota M, Yazdany J, Schmajuk G, Ludwig D, Goldstein T, Butte AJ. Protected Health Information filter (Philter): accurately and securely de-identifying free-text clinical notes. Nature Partner Journals Digital Medicine. 2020. DOI name: 10.1038/s41746-020-0258-y
11. Neely J, Rychkov D, Paranjpe M, Waterfield M, Kim S, Sirota M. Gene Expression Meta‐Analysis Reveals Concordance in Gene Activation, Pathway, and Cell‐Type Enrichment in Dermatomyositis Target Tissues ACR Open Rheumatology. PubMed PMID 31872188.

12. Paik H, Kan MJ, Rappoport N, Hadley D, Sirota M, Chen B, Manber U, Cho SB, Butte AJ. Tracing diagnosis trajectories over millions of patients reveal an unexpected risk in schizophrenia. Sci Data. 2019. PubMed PMID: 31615985.

13. Lanata CM, Paranjpe I, Nititham J, Taylor KE, Gianfrancesco M, Paranjpe M, Andrews S, Chung SA, Rhead B, Barcellos LF, Trupin L, Katz P, Dall'Era M, Yazdany J, Sirota M, Criswell LA. A phenotypic and genomics approach in a multi-ethnic cohort to subtype systemic lupus erythematosus. Nat Commun. 2019. PubMed PMID: 31467281.

14. Ashouri JF, Hsu LY, Yu S, Rychkov D, Chen Y, Cheng DA, Sirota M, Hansen E, Lattanza L, Zikherman J, Weiss A. Reporters of TCR signaling identify arthritogenic T cells in murine and human autoimmune arthritis. Proc Natl Acad Sci U S A. 2019. PubMed PMID: 31455730.

15. Pineda S, Sirota M . Determining Significance in the New Era for p-Values. J Pediatr Gastroenterol Nutr. 2018. PubMed PMID: 30052572.

16. Kosti I, Sirota M. Electronic Medical Records Enable Precision Medicine Approaches for Celiac Disease. J Pediatr Gastroenterol Nutr. 2018. PubMed PMID: 29746345.

17. Gianfrancesco MA, Schmajuk G, Haserodt S, Trupin L, Izadi Z, Jafri K, Shiboski S, Sirota M, Adams Dudley R, Yazdany J. Hydroxychloroquine dosing in immune-mediated diseases: implications for patient safety. Rheumatol Int. 2017.PubMed PMID:28748425.

18. Apeltsin L, Wang S, von Büdingen HC, Sirota M. A Haystack Heuristic for Autoimmune Disease Biomarker Discovery Using Next-Gen Immune Repertoire Sequencing Data. Sci Rep. 2017. PubMed PMID: 28706301.

19. Schmajuk G, Tonner C, Trupin L, Li J, Sarkar U, Ludwig D, Shiboski S, Sirota M, Dudley RA, Murray S, Yazdany J. Using health-system-wide data to understand hepatitis B virus prophylaxis and reactivation outcomes in patients receiving rituximab. Medicine (Baltimore), 2017.PubMed PMID: 28353614.

20. Cho HG, Fiorentino D, Lewis M, Sirota M*, Sarin KY*. Identification of alpha-adrenergic agonists as potential therapeutic agents for dermatomyositis through drug-repurposing using public expression datasets. J Invest Dermatol, 2016. PubMed PMID: 26975725.